Throughout Hitchcock's films, a frequently recurring motif is staircases. In the movie Shadow of a Doubt, stairs are used for many reasons, including to symbolize escape. In the image below, Charlie is using the back staircase of her house as an alternate way to leave. She does this frequently, mainly in an effort to avoid her Uncle Charlie, when she begins to suspect him of being a murderer.
This staircase image is iconic as well. It has a very ominous cast; Uncle Charlie is looking down the staircase at young Charlie, and she already strongly suspects him of murder. The stairs represent danger; Charlie inevitably has to climb the stairs, even though her uncle is at the top.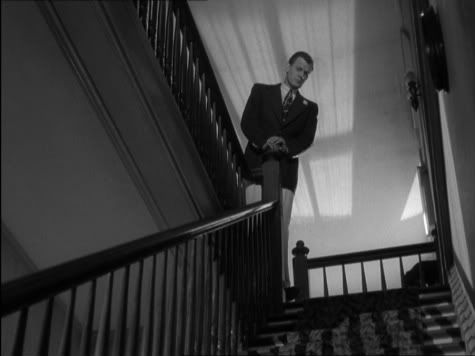 Another movie in which stairs play an important role is Vertigo. The main character suffers from fear of heights, so staircases are an excellent way to dramatize this. In both scenes, the first when Scottie is unable to make it up the stairs to 'save' Madeleine, and again when roles are reversed and he drags her up the stairs, the stairs add dramatic effect.
Overall, in Hitchcock's films, stairs are a tool to build suspense and dramatic effect, and to symbolize a journey for the characters.